Dear Discovery Center Friends and Families,
We are enjoying the seasonal changes all around us at The Discovery Center Museum and Story Garden. A special thank you to everyone who participated in Halloween Hallows and Halloweekend. During the weekend, we hosted over 1000 visitors and celebrating this wonderful family fun tradition. I was fortunate to be organizing the costume contest during our Halloweekend and watching our children dress up, play act, and pretend showed me how important it is for children to have an active opportunity to role play and experience different characters.
Behind each costume I also noticed a powerful learning process at work that started with, "What would you like to be this Halloween?" My friend's four-year-old daughter Caroline, showed me first-hand the beauty of children engaging in design, ownership, and creativity. Her mom asked her to draw her dream Halloween costume and she had her heart set on being a pink fairy. Together, Caroline and her mom, started designing her costume to match the drawing. She helped each step of the way, and the final result was her dream costume.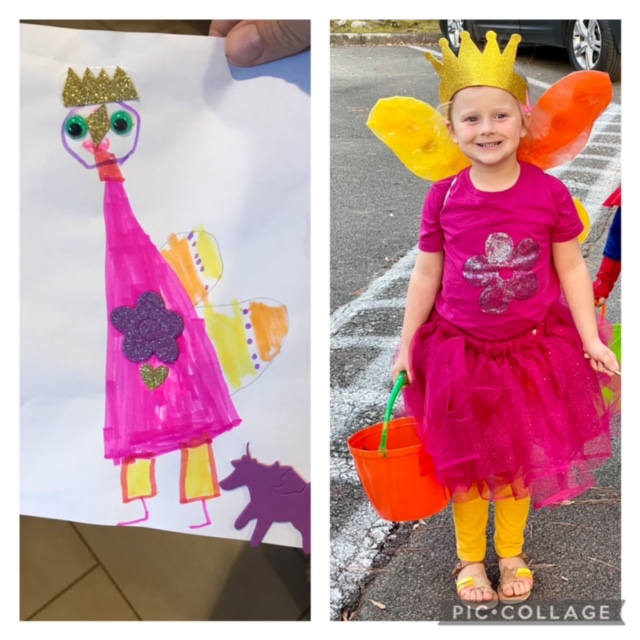 This is one example of how important it is for children to engage in design, innovation, and creation. Nitasha Manchanda is a parent of two young children and a trained scientist, she writes about this powerful learning process.
For open-ended projects of self-expression: Ideate → Create → Reflect provides a general framework, which most creators probably use already (instinctively or intentionally). Having an iterative process is essential to successful and sustained creativity.

Ideating — brainstorming many ideas and documenting them — is a useful starting point for any project.
Creating

using the mindset of rapid prototyping (in the case of art or other creative work — generating several drafts, sketches, or models) can help children cycle through the process faster and overcome perfectionist tendencies.

Reflecting

is an essential step which develops critical thinking, and without which learning is incomplete.
The design thinking process can empower children by providing an active, problem-solving toolkit, which they can then apply to find solutions to a wide range of problems. Learning to reflect is arguably the most important step in the learning process, and particularly easy to overlook with young children. As you think about the upcoming holiday season, this is a wonderful time to engage your children in design thinking as they plan special meals, holiday decorations, special performances or gift giving. Give them a chance to be a part of the design process, you might be amazed as what they are thinking and creating.
Wishing you and your family endless opportunities to design together,
Dr. Brenda Myers
Executive Director
"Children must be taught how to think, not what to think." – Margaret Mead