Explore
Our unique, hands-on environment encourages children to make choices and acquaint themselves with who they are and who they might want to be. Offering a safe, engaging and happy atmosphere, The Discovery Center fosters play, sparks creative thinking and builds self-esteem. Pretending to soar above the clouds in our A-10 cockpit, shopping smart, directing an emergency call, dining out international-style, or sampling simple science are perhaps the first steps in preparing a child to succeed in a changing society.
One of our most popular exhibits is the Grocery Store, generously sponsored by Weis Markets. Children can shop smart in our store filled with delicious and nutritious foods. Future shoppers can role play as the store manager, a cashier or stock the shelves as they fill their carts with actual boxes and containers found right in your local Weis Market. Play with your child and explore real life scenarios while they learn how to manage money and build healthy meals as they walk through our store, sized just for them.
Visit our A, B and C Bank sponsored by M&T Bank where you can be a bank teller, work the vault or exchange monies from around the world! Interactive games or the tried and true abacus will teach your child how to identify and count money. Learn how money is made by our Reading Rainbow video and see our collection of Piggy Banks. Remember, a penny saved is a penny earned!
Spread your wings and Take Flight as you explore the open skies. From Leonardo Da Vinci's desire to learn how birds fly to the space shuttle, this exhibit explores man's desire to soar. Take a ride in a real hot air balloon basket, try your hand operating a helicopter simulation or jump into our A10 cockpit, sponsored by BAE,  while you learn about the principles of flight. Don't forget to take home your paper airplane!
Sound the siren, honk the horn, get in your gear and climb aboard Engine Number 5! The real Engine Number 5, formerly housed in the City of Binghamton's Fire Department. Learn the history of Binghamton's Fire Department from horse-drawn fire engines to today's local heroes. Learn fire safety, how to call 911 and all of the jobs a fireman does. Drive the big rig as you race to an emergency while feeling like a real life hero for the day!
There's a magical place outside of our museum called The Story Garden. This award-winning, interactive outdoor exhibit space features vignettes from favorite stories that encourages reading while fostering a love and appreciation of gardens and enjoyment in the great outdoors. Ride a tractor, visit the Three Bears house, board a pirate ship or climb up into the tree house as you imagine being Captain Hook or Goldilocks or a member of the Swiss Family Robinson. Pull a book out from one of the many mailboxes and share story time with your child.
We listen to our favorite visitors, children, and they told us they wanted an exhibit that featured animals so Pet Vet came to be. Sponsored by many local veterinarians, this exhibit explores what a veterinarian does, how to pick the perfect pet for your family and how to care for a pet with realistic animal friends. Enjoy animal antics on our video screen or settle down and read an animal story as your child explores the bond between themselves and their pets.
Doctor Demtrak's Healthy You – Coming Soon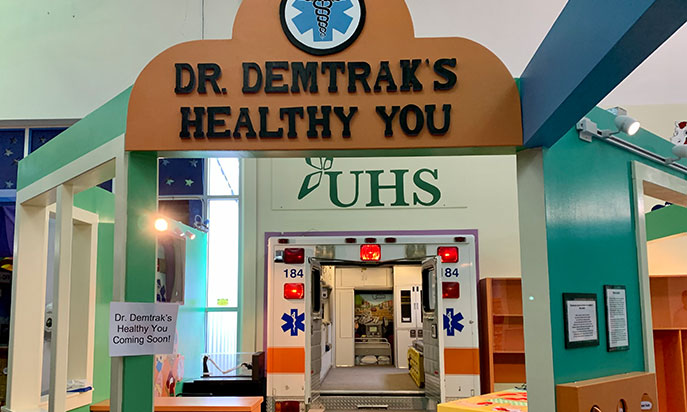 Please excuse our dust as we continue to work on Dr. Demtrak's Healthy You in conjunction with UHS. This exhibit is  dedicated to beloved Pediatrician, Volunteer, Discovery Center Foundation Board Member and supporter Dr. Christopher S. Demtrak. Children's health and safety take center stage as they explore our nursery and ambulance, while watching health videos presented by Binghamton University Nursing Students. Children can practice their nursing skills or be a surgeon on our life sized Operation game! Even an apple a day won't keep this doctor away!
Haunted Halloween Hallows
Santa's Workshop
Gingerbread