Calling all community members – supermarkets, bakeries, scout troops, chefs, schools, everyday cooks and Gingerbread Enthusiasts!
It's the time of year to help The Discovery Center prepare for our holiday display! We know that this year will be a different experience for everyone due to COVID-19, but we still want you to get out your aprons and put on your chef's hat to whip up a batch of gingerbread for this year's holiday exhibit, A Village of Gingerbread – Our House is Our Castle! Anyone can participate from children to adults to individuals or groups. Use your imagination and creativity to bake and decorate a house or castle as you make a little magic for this oh, so yummy, holiday display.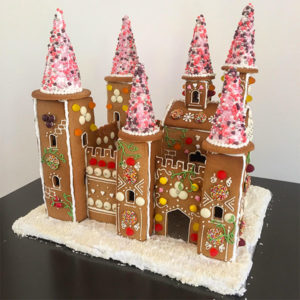 All participants will receive a pass for FREE play in the museum on opening day, Saturday, December 5, 2020. Due to COVID restrictions on occupancy, reservations will be made on a first come, first served basis. Additional dates will be added if necessary.
Entries must be submitted no later than Monday, November 30, 2020. Monday operating hours are 11AM – 2PM. Special arrangements can be made if this time is not convenient. For registration and instructions, please call 607-773-8661 x201. 
Come and delight in our gingerbread village from Saturday, December 5 – Thursday, December 31, 2020.
Special exhibit areas have been planned throughout the museum and boards for constructing your gingerbread creation are available at The Discovery Center. These can be picked up any time the museum is open. If you wish to have your creation returned to you, please let us know. Pieces not picked up by Sunday, January 3, 2021 will be disposed of.
Thank you for your interest and participation in the Discovery Center's Holiday Exhibit- "A Village of Gingerbread – Our House is Our Castle". Due to COVID-19, children have been on their virtual devices much more than we ever thought. Creating a gingerbread project will not only provide a fun activity but will also employ STEAM skills – STEM with an A for Arts! We hope you enjoy your creative experience and know that this year's exhibit will be exciting and a magical experience for everyone!
We look forward to seeing your gingerbread creation!
Register your Gingerbread Creation!