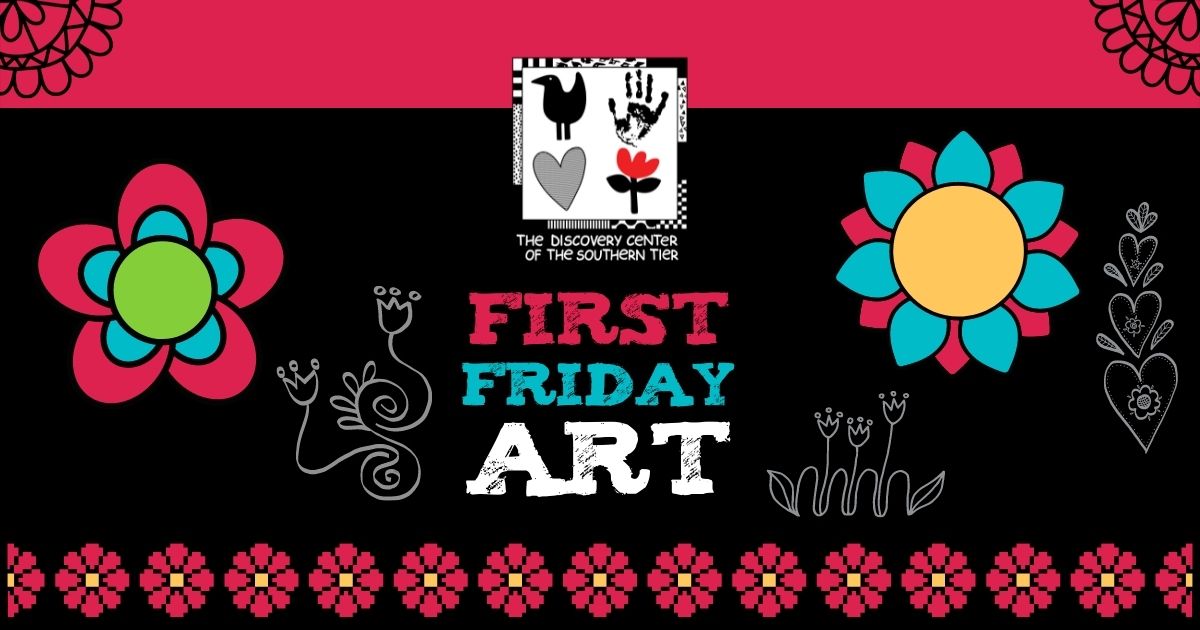 February's First Friday Art Exhibit
February 4 @ 5:00 pm

-

7:00 pm
As part of the Broome County Art Council's First Friday in February, The Discovery Center will feature artwork created by students who participated in The New York Folklore in Education Network's "Culture, Community and Classroom" project.
Come see the display in our Kids Commons Gallery from 5-7pm on Friday, February 4, 2022.
Twenty teachers in school districts around the region participated in a summer workshop with nationally recognized faculty from Local Learning: The National Network for Folk Arts in Education. Eight educators were then selected to host artists in their schools. Local teachers and traditional artists participated in a national initiative to incorporate diverse cultural arts and knowledge into school classrooms. Cheryl Dutko, Assistant Executive Director and recognized New York State Folk Artist, was selected as one of the participating artists and visited Yvonne Phinney's art students in the Deposit School District.
Culture, Community, and the Classroom applies in any subject area K-12. It explores culturally responsive, engaged learning through local traditional arts. It introduces concepts of cultural identity and opportunities to practice ethnographic research skills such as interviewing, note taking, and sketching. The program offers educators a widening perspective of their own cultural identity and models for their students to explore their cultural identity authentically.
Thank you to these funders who made it possible to offer this as a free professional development opportunity for teachers and artists: The National Endowment for the Arts, New York State Council on the Arts, The Hoyt Foundation, The Roger Kresge Foundation, and individual donors to Local Learning. We are grateful to our local colleagues Jackie Thompson, Christina Mack, George Zavala, Karen Canning, T.C. Owens, and Ellen McHale for their help in planning this professional development series. We want to acknowledge the support of New York Folklore, Go-ART!/GLOW Traditions, The Roberson Museum & Science Center, The ARTS Council of the Southern Finger Lakes, The Discovery Center and Nicole N. Waskie-Laura and  Kerri Bullock at the Broome-Tioga BOCES.