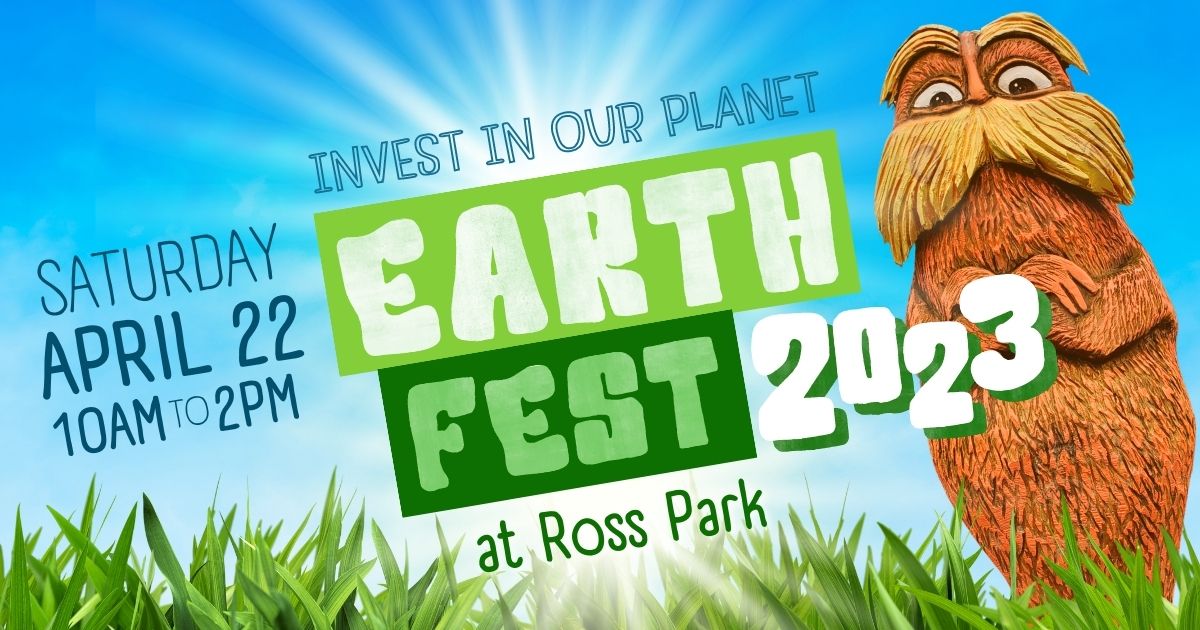 Earth Fest at Ross Park
April 22 @ 10:00 am

-

2:00 pm
As we rally behind the theme "Invest in Our Planet", organizations from across the Southern Tier will come together at Ross Park in Binghamton to provide opportunities for children and families to learn about the importance of investing in our planet on April 22, 2023 from 10AM-2PM.
During this special event, children and families will be able to take nature hikes, learn about birds, and make bird feeders. Special sessions will be offered on making recycled art, turning t-shirts into tote bags, and planting sunflower sprouts. Participants can also learn about saving the endangered monarch, conduct bug investigations, and enjoy a chainsaw exhibition by Mark Watson as he creates art from a fallen tree.
Partners for Earth Fest include: The Discovery Center, Ross Park Zoo, CHOW, Waterman Conservation Education Center, Broome County Planning Department, Broome County Environmental Management, Network for a Sustainable Tomorrow (NEST), Cornell Cooperative Extension of Broome County, The Naturalists' Club of Broome County,  YWCA, Sierra Club, and The Phelps Mansion.
The Ross Park Zoo and The Discovery Center will be open to the public with free admission for members and "pay what you can" for all guests.
What You'll Find at the Pavilion Outside of the Museum:
1. Sprout Gardening Demonstration at 11am and 12pm
2. Tree Seedlings Giveaway at 1pm
3. Bug investigation at 10:30am, 11:30am, 12:30pm
What You'll Find in the Museum:
1. Phelps Mansion – Information and coloring sheets (Cody Gallery)
2. Recycled art (Studio 60)
3. T-shirt bags (Widgets Exhibit)
4. Save the Monarch (Bug Squad Exhibit)
5. YWCA – Free information and goodie bags (Dr. Demtrach Exhibit)
6. NEST – Information and solar kits (Widgets Exhibit)
7. Concessions (Kids Commons)
8. Naturalist Club of Broome County – Bird watching activities (Entrance)
9. Nathan Funk – Invasive Species (Bug Squad Exhibit)
What You'll Find in the Story Garden:
1. Sierra Club – Binghamton Move Out Project and pollination
2. CHOW – Sustainable nutrition and keeping food out of landfills
3. Discovery Center – Recycled Art Project
4. Mark Watson – Chain saw carving demonstration
What You'll Find at the Zoo:
1. Waterman Conservation and Education Center – Backyard Bird Bonanza (Nature's Post)
2. Guided Hikes  (Trail Entrance)
3. Broome County Environmental Management Council and Planning Department – Recycling (Binturong Shelter)
4. Cornell Cooperative Extension of Broome County – Building Composting Skills, Master Gardeners with invasive species info, and clay seed balls (Cougar Shelter and lawn)
Share This Story, Choose Your Platform!